Christian lives in pain from which there is no deliverance: Rare disease has taken over his body
The young man is in contact with the outside world only through a computer that is slowly getting obsolete.
Source: Michaela Farkašová
A man with a baby's weight, wounds like a war veteran, but a huge heart. Kristián (32) suffers from a rare disease called Epidermolysis Bullosa or butterfly's wing disease. Only poetic thing about the disease is its name.   
Skinny body, conjoined fingers without nails, narrowed esophagus and throat, and especially deep, bloody wounds covering almost every inch of his body. This is the reality for a family living in Veľký Kýr (district of Nové Zámky), where Daniela (50) devoted her life to care of her only son.  
the following videois not suitable for sensitive characters.
 Kristián has not yet talked about the disease publicly, however, if you thought you had problems in your life, the ordeal of the family from Veľký Kýrwill make you think twice. If you are a sensitive person, consider watching the following video.
Kristián has never done anything wrong to anyone and yet he lives a life that you would not wish to anyone.
Epidermolysis Bullosa, the disease Kristián suffers from, is shrouded in a mystery -conjoined toes without nails, wounds at every inch that crack and bleed,narrowed esophagus.
Kristián may eat only mashed food, weights 38 kg and suffers from unbearable pain.
 "I have the best mom in the world, it's unbelievable what she's doing for me. The morning begins with her changing my bandages and cleaning my wounds. The process takes about two hours.
Kristián's parents are doing their best but now his father lost his job.
The young man still dreams of an electric wheelchair.
Despite his extremely cruel diagnosis, Kristián maintains a positive attitude and still enjoys his life.
When Daniela learned that she was pregnant, she and her husband, Ján (55), were extremely happy. "After his birth, however, they immediately took him from me, not telling me why. Only later did I learn a cruel diagnosis, and after being transferred to another hospital they told me that my son would die. They didn't even have a bed for me, I shared one with some other mother, "she recalls.
Kristián's body is covered in bleeding wounds.
Source: Michaela Farkašová 
Daniela loves Kristián (32) unconditionally. Since he was born, she never doubted that her son would live and promised herself to do everything for him. She still cares for him with devotion to this day and Kristián is grateful for that. "I have the most amazing mom in the world, it's unbelievable what she is doing for me. The morning starts by her changing my bandages and dressing my wounds before I have breakfast. It takes about two hours, "says Kristián. 
The bandages and wound dress do not last till the evening. On the top of EB, Kristián has about a dozen of other diagnoses. Asked if it hurts, the young man smiles bravely, and says: "A lot". Weighting only 38 kg, Kristián refuses to take any painkillers and suffer silently.
He has a big dream
Few people know about the family's ordeal. "We do not go anywhere, I am afraid of leaving him alone. You know, anything can happen to him. All my life I have been taking care of him all by myself. Once a year we go on vacation at the sea for money I try to save during the year. Sea helps him very much, the air, change of the environment. That's why my husband works abroad, "says Daniela.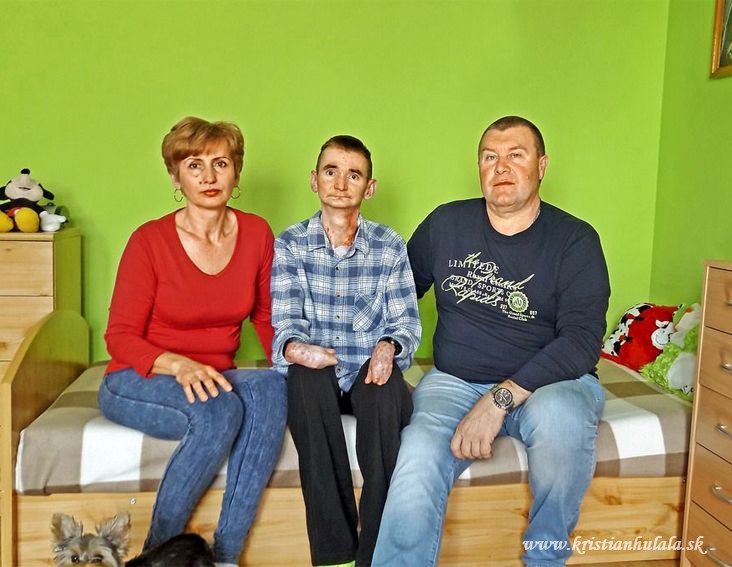 "Mum's faster than Sagan. She goes to the store riding that old bike and always hurries to come back. Sometimes she manages it under 15 minutes. She really does not like leaving me alone,"laughs Kristián. At the moment, Ján is unemployed and Daniel has problems with spine, but she doesn't even think about undergoing an operation. 
There is no one they can entrust the care of their son to. "I don't have real friends, just those I met online. I am online all the time, however, my computer is getting old and I dream of an electric wheelchair. I am able to walk 20 meters max. as I get tired pretty easily. Electric wheelchair would be great as my mum now can hardly push me on my old chair,"adds the young man.
Rare disease
Epidermolysis Bullosa is a very rare disease which causes skin disruptions and deep wounds which heal very slowly. Wounds are all over Kristián's bodyand on some places there is more wounds than skin. "He has no muscles, sinews, has a narrowed esophagus due to which he may be fed only smashed or liquid food," says Daniela. The disease is therefore called butterfly's wing disease as the skin is fragile as butterfly's wings.